Photo credit : @thishpara @northernwildone | Production: glampsource.com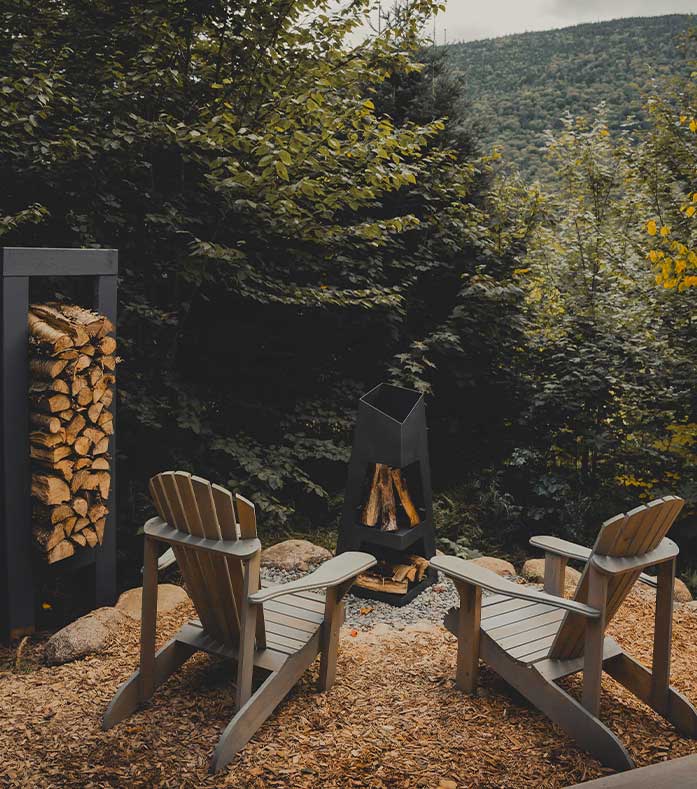 Allow yourself to be enchanted and revel in the experience
Immerse yourself in the utter peace and comfort of our cozy nest in the wilderness. Tranquility, contentment and relaxation set the stage to bring you moments of pure happiness.
Our mission? To offer you chic, comfortable and well thought-out accommodation units, while limiting our ecological footprint, in order to allow you to live an exceptional accommodation experience. Our cottages were conceived and designed to bring you the utmost comfort and calm.
Nöge is fueled by an innovative spirit in order to provide modern cottages that will surely charm architecture enthusiasts.
The ethics of our accommodation are embodied by visitors' rustic-chic adventures where nature mixes with experiences to be enjoyed. The priority that we give this value guides our organization.
For mornings bursting with fresh food!
Meet Canelle, Cocotte, Mama, Luna, Choupette, Plume, our laying hens that make it possible for you to enjoy a fresh breakfast, every morning of your stay.
See our cottages
Photo credit : @thishpara @northernwildone | Production: glampsource.com
Our partners
By being surrounded by organizations who believes in our potential, we manage to offer the best accommodation experience in the Québec City area. We are constantly working to elevate and innovate and our goal is to exceed all expectations.
This project is being carried out with the financial support of the Government of Quebec.